Two years after Frank Minja, MD, initiated an Interventional Radiology program in Tanzania, East Africa, a new model for medical outreach missions is taking shape.
In a first for that country and the region, Muhimbili University of Health and Allied Sciences (MUHAS), Tanzania's main medical academic teaching center, now offers a master's of science (MSc) degree in interventional radiology (IR).
"This is a big change and a big deal because it's a departure from most global outreach programs, which are usually a one-off," said Minja, the director of Global Outreach for the Department of Radiology & Biomedical Imaging at Yale School of Medicine (YSM). "With training, people gain skills but not credentials. The two-year MSc provides visiting faculty with a set curriculum."
The MSc program ensures a coordinated effort among visiting teaching teams. "As they conduct their training, they are following a syllabus that is competency-based so students advance academically as they gain skills," Minja said. "At the end of two years, students essentially will have the equivalent education of a U.S.-trained IR fellow."
Minja worked closely on the curriculum with the leadership at the Muhimbili National Hospital (MNH) in Tanzania, which shares a campus with MUHAS in Dar es Salaam. Two curricula were approved, a MSc in neuroradiology and an MSc in interventional radiology. Enrollment in the neuroradiology program is slated to start in 2020; the IR program has already enrolled its first students.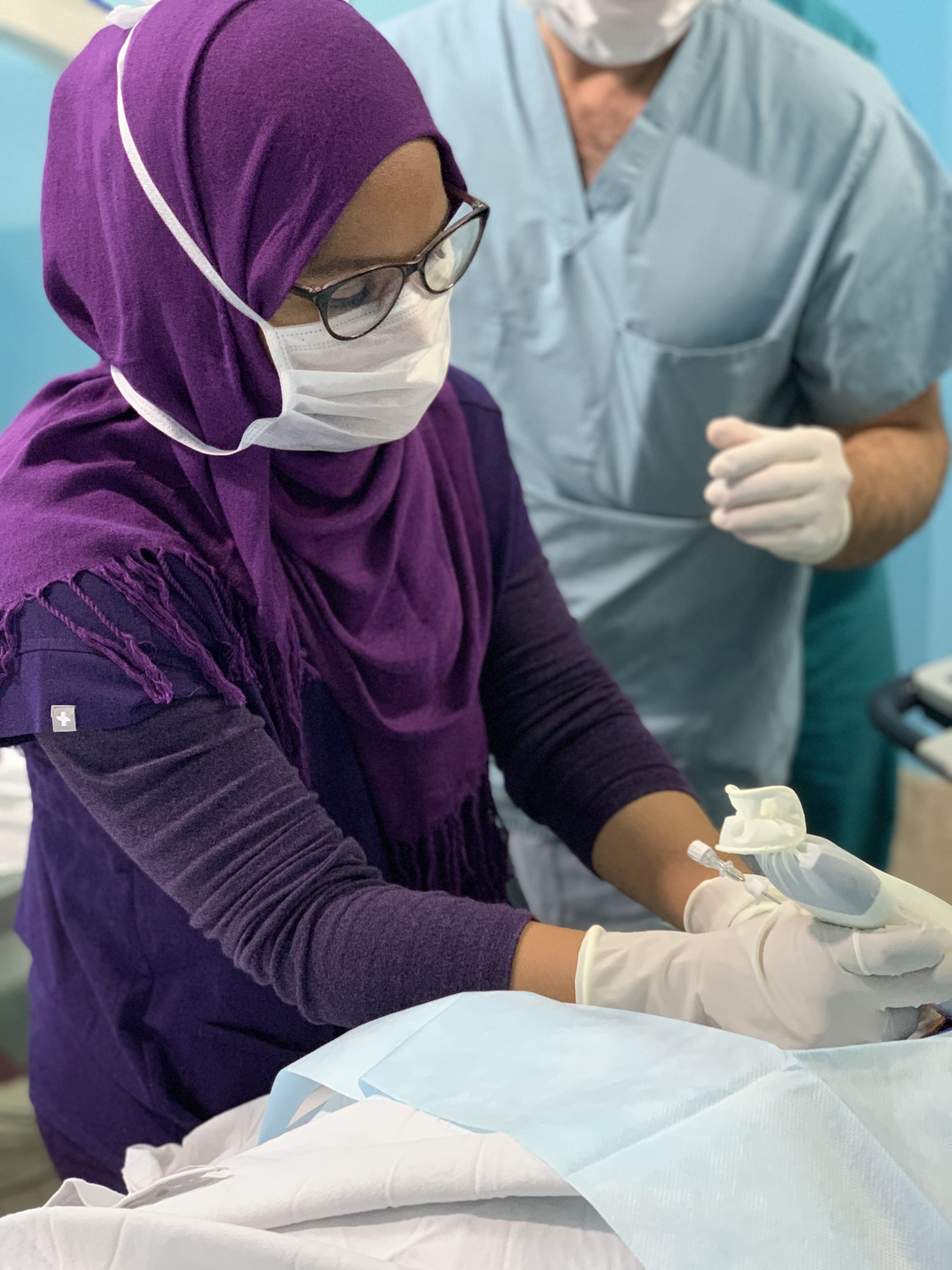 Minja is the senior author of a recently published paper in JVIR that provides a road map of the Interventional Radiology Initiative in Tanzania, which was designed to train that country's first generation of interventional radiologists. "This is a model that we will continue to refine so that other people can replicate it," Minja said.
Minja considers this new model Global Health 2.0. "We saw a problem and tried to help. Using this prototype, we can help other institutions oversee IR training in low-resource countries," Minja said. "There is also an interest in adapting this approach to pediatric radiology training. Having a curriculum will anchor these efforts."
The need for continued IR training in Tanzania is great, Minja said. "Despite a population of nearly 60 million people, there is currently not a single interventional radiologist in Tanzania. Before sending the first team in October 2018, Fabian Laage Gaupp, MD, a fourth-year resident, conducted an IR readiness assessment, a structured evaluation of the resources that were available for IR services at MNH and MUHAS. "Based on our assessment, a key obstacle to establishing IR there was the lack of training opportunities," Minja said.
MUHAS has built the largest diagnostic radiology training program in Tanzania over the past decade, with up to 20 residents per year in a three-year program. "Our goal is to graduate locally trained IR physicians who understand the necessary workarounds in a resource-limited setting, as opposed to training them at Yale or elsewhere abroad where more resources are readily available," Minja said.
"We feel having a fully established MSc program is a big milestone for us that we definitely want to celebrate," he said. "We couldn't have accomplished this in only two years without our partners, including the continued support of the radiology administration at YSM," Minja said.
The Tanzania program has had many successes in a short period of time, and is well on its way to meeting its goals, says Rob Goodman, MB BChir, the chair of the Department of Radiology & Biomedical Imaging at YSM and radiologist-in-chief at Yale New Haven Health.
"The beauty of the Tanzania IR Initiative is that it seeks to set up a self-sustaining training program that will be able to work independently within a few years," Goodman said.
From October 2018 to October 2019, 12 teams and 53 volunteers have traveled to Tanzania in teams of three to five people on a two-week schedule to provide hands-on training to radiology residents, nurses and technologists.
Among the volunteers were attending physicians from Emory University, Utah, Partners in Boston, Weill Cornell Medicine, Ochsner Health System in Louisiana as well as private practices in Kansas and Ontario, Canada. During that first year, the teams held 293 patient consultations and performed 256 procedures. Doctors from Emory oversaw the IR teaching program's first splenic artery embolization.
Laage Gaupp has made three trips to Tanzania. Jeanne Burke, RN, and Julie Albrecht, RT, of Yale New Haven Hospital, traveled with the first team in 2018, returning a year later. Flexibility is important when volunteering for a medical mission in Tanzania, they said. You must do your best with the available supplies, as well as the language barrier. Using images and other visuals helped them communicate, they said.
In October, the IR teaching team also included Igor Latich, MD, assistant professor of Radiology & Biomedical Imaging at YSM. "The two classes of Muhimbili residents that I worked with are as good as their U.S. counterparts, and in some cases easier to train. Their clinical skills, which have markedly improved since the inception of the program a short year ago, are superb," Latich said. "They ran a daily clinic for outpatient consults, and their patient assessment skills and communication with attending staff was top-notch."
Latich also suggested that the IR suite be painted to make it more welcoming to patients. You can read Latich's essay about his October 2019 trip to Tanzania here.
While many of the cases the IR team handles are cancer-based, such as biopsies, and urinary and biliary drainage, patients also arrived at the hospital with fertility issues. Now, because of the IR training, doctors can better treat these patients with procedures such as uterine fibroid embolizations, Minja said.
Teams of senior and junior trainees have attended conferences in the United States
to hear first-hand about the most recent advances in IR. The senior trainees attended SIR 2019 in Austin, Texas, while the junior trainees traveled to Boston, Mass., for SIO 2019.
Funding for the Tanzania Interventional Radiology Initiative comes from individual donations and Doximity. The money pays for airfare and housing for the volunteer nurses and technologists.
"We are very thankful for all of the support," Minja said. "We feel very lucky."
Much of Minja's work is administrative, including making sure that the volunteers' travel in and out of Tanzania is streamlined. He is assisted by Laage Gaupp and Anish Gonchigar, MD, a second-year resident at YSM who helps with logistics and recruitment. With their assistance, Minja has developed an onboarding checklist and the team uses WhatsApp for real-time communications. They also deploy social media to spread the word about their work. Their handle on Facebook, Twitter and Instagram is @Road2IR.
"We feel Tanzania is good proof of principle," Minja said. "The question becomes, in two to three years, how does this scale to other countries? If the model works, then people will no longer go on outreach trips without a curriculum. Instead, they can apply our model, and that's how the impact gets multiplied."
Submitted by Angel Machon on December 18, 2019