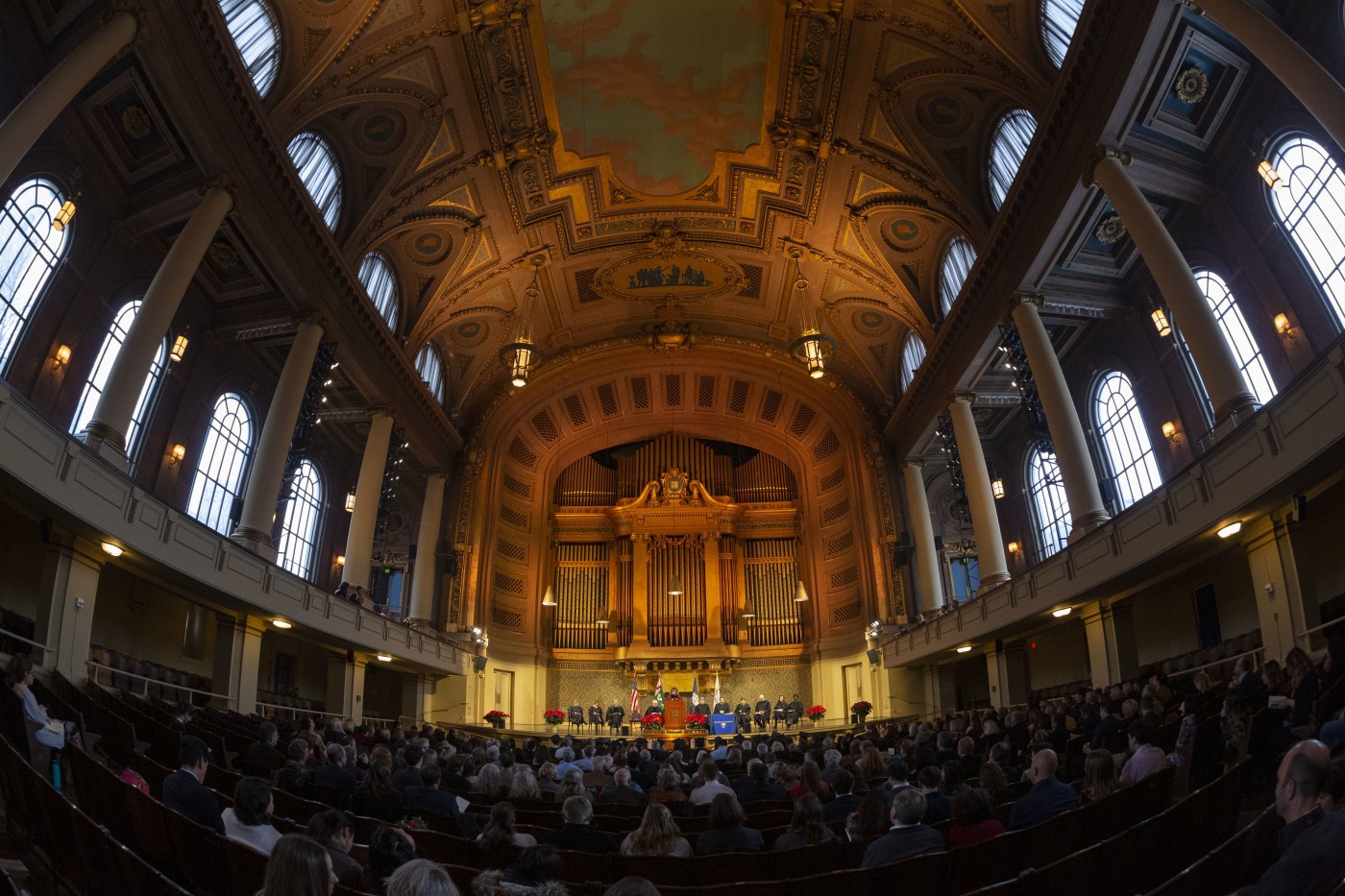 "We're destined. It's in our DNA to lead and advocate," alumna Tricia Marriott '86, PA-C, MPAS, MJ Health Law, CHC, DFAAPA, told the 48th class of Yale School of Medicine (YSM) Physician Associate (PA) Program students at their December 9, 2019 graduation. Woolsey Hall was filled with family and friends as the 39 graduates received their diplomas after completing the 28-month program.   

In her welcoming remarks, PA Program director Alexandria Garino, PhD, PA-C, praised the significant transformation and growth of each member of the class in this short time frame, noting she now viewed them as colleagues. She told the students that each of them would find a copy of their personal statement from their admissions application in the envelope they would receive with their diploma, to remind them of how far they have come.  
Garino referred to Marriott, associate professor of physician assistant studies, University of Saint Joseph, as a "tireless advocate for the PA profession." Marriott has held several PA leadership and advocacy positions at the state and federal level, including working for the American Academy of PAs in the Advocacy and Professional Practice Division.  
Marriott told the graduates that when she was thinking of applying to be a PA, it was still a new profession, with only 18,000 PAs in the country, versus 137,000 today. And while her family had doubts about her career choice, Marriott explained that when she visited Yale, she saw how "joyous" everyone in the program was and how happy they were to be practicing medicine. "I wanted in," she said. Marriott explained she always felt a responsibility to "support the profession that lets us take care of patients," and referenced the active role Yale PA students, faculty, and alumni play in the profession.  
The ceremony was briefly interrupted by a fire alarm, a fitting turn of events after Marriott shared a moving story about treating a firefighter early in her career. She had been at the end of her shift one evening when firefighters arrived at the hospital. When she listened to the lungs of a young firefighter, she heard a concerning sound and ordered a chest x-ray, even though it was after midnight. At 2:00 am, she had to let him know that he had a huge lesion on his lung and should go to a specialist as soon as possible. A year later, the firefighter came back to the hospital to find her, and thanked her for being thorough and making him stay. He told her how in the intervening year he had had surgery, chemotherapy, gotten married, and become a father.  
"That firefighter's family believes in the care a PA can give," Marriott stated. And she advised the graduating students that, while they did not necessarily have time for lobbying for the PA profession early on in their careers, "the best advocacy for PAs is doing their best every day, impacting patients, family, and friends."    
When everyone had returned to their seats after the fire alarm evacuation, students, faculty, and staff were recognized with a number of traditional commencement awards, including two student achievement awards, that the PA Program faculty select:  
Dr. John P. Hayslett Award for Overall Academic Excellence: Rebecca Arko '19
(This award goes to a student who achieved academic excellence through all phases of the curriculum, embraced extracurricular opportunities, and whose performance exemplified dedication to patient care.)  
Yale Physician Associate Program Leadership Award: Naiska Cheung Martinez '19
(This award goes to the student who went beyond the academic requirements to motivate and inspire others.)  
The graduating class selected four other awardees:  
Outstanding Didactic Course Award: Sasanka Jayasuriya, MD, assistant professor of medicine; director, Yale Health Travel Medicine  
Outstanding Preceptor Award: Aaron Seltzer, LCSW, acute psychiatry, Yale New Haven Hospital  
Jack Cole Society Award: Mirofora Paridis, PA-C (SUIS), lecturer in emergency medicine
(For significant contributions in support of the PA profession.)  
Class of 2019 Award: Megan Pendagast, PA research program manager
(For support and dedication to the Yale PA Program and the Class of 2019.)   
In her student address toward the end of the ceremony, Hannah Eldred '19, echoed a theme Marriott had raised earlier, noting "we are poised to be leaders in the field," who already "have advocated for our patients, our profession, and each other." She reflected on the class's potential, and on the fundamental value of kindness. And she emphasized the importance of patient care: "Take an extra minute, sit down at eye level, and explain things in terms they can understand. Get them an extra blanket. Let them know you are part of their team."  
Associate PA program director David Brissette, MMSc, PA-C, in closing remarks, told the graduates "now is when the hard work really begins," but confidently added "we know you are ready."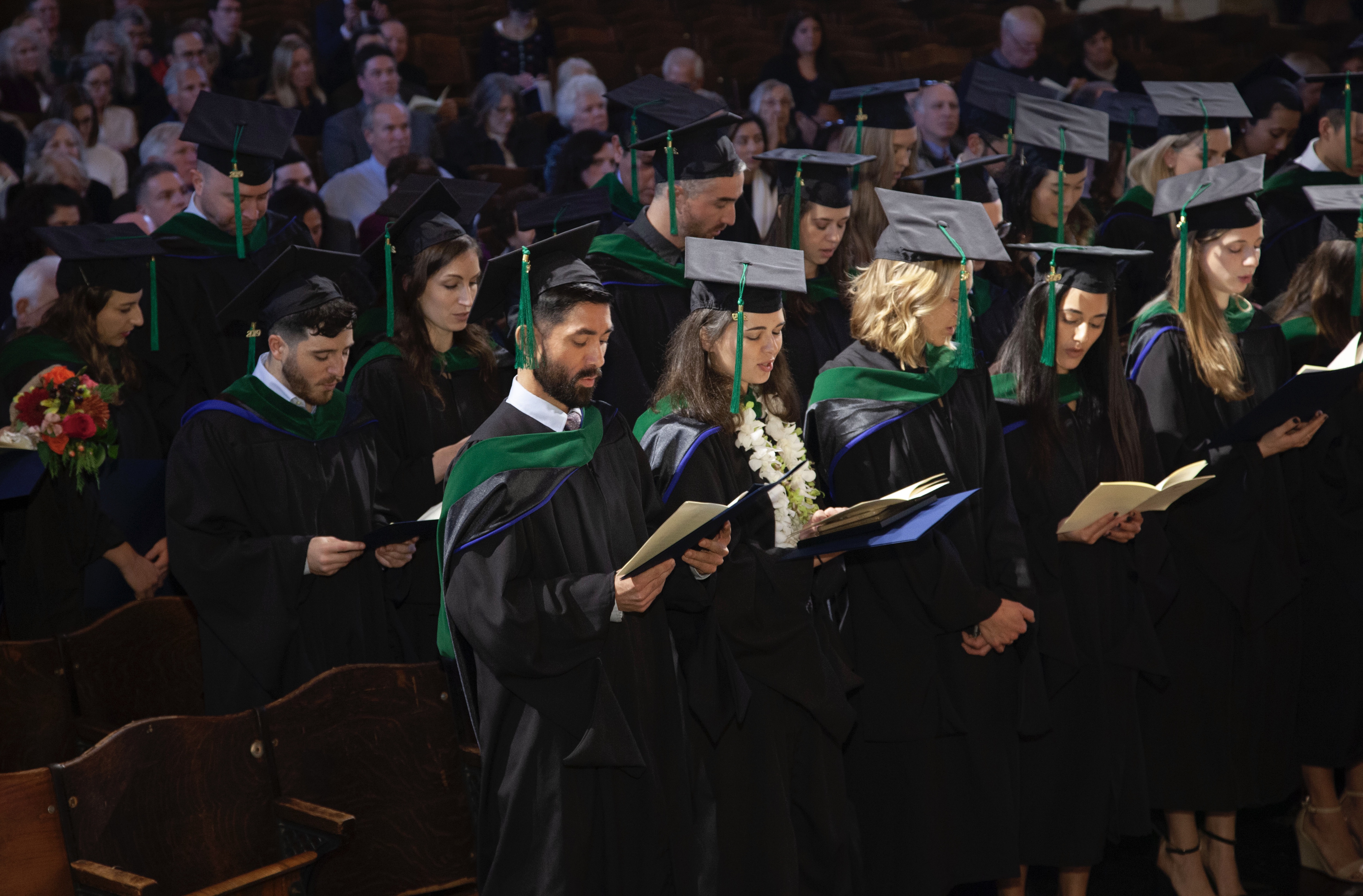 Submitted by Abigail Roth on January 14, 2020